Posted on February 29, 2012
We have just completed a custom motion rig for Ignite Game Technologies and there SimRaceWay sim product.  The rig was sent fully assembled as part of a new service we are offering, plug and play, so you will receive the system ready to go.
The rig featured custom branding, Full D-Box Motion system, Buttkicker Advance with our new limiter control switch system product, Logitech G27 control set with fully extended cables for tidy integration with the Vesaro I cable management system.  Logitech 5.1 Z906 Surround sound and the Cobra Evolution Pro Seat.

Posted on February 22, 2012
This configuration includes Black Vesaro I base rig, Vesaro motion system using the D-Box motion physics setup, Buttkicker Advance tactile feedback system and Cobra Evolution Pro FIA bucket racing seat, Fanatec Porsche wheel, Clubsport pedals, Thrustmaster TH8RS Gearstick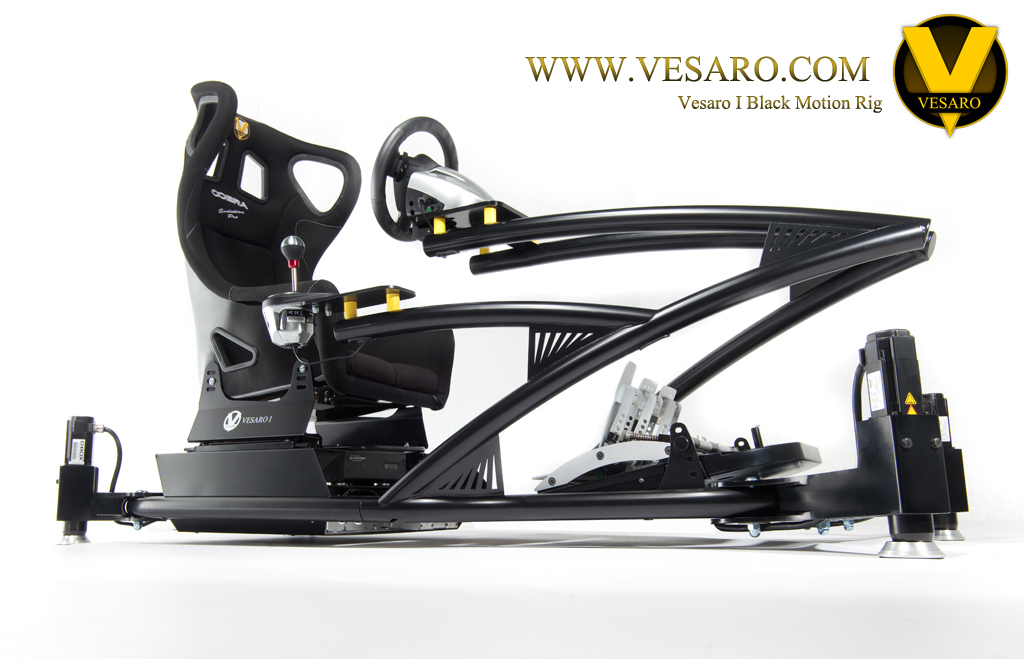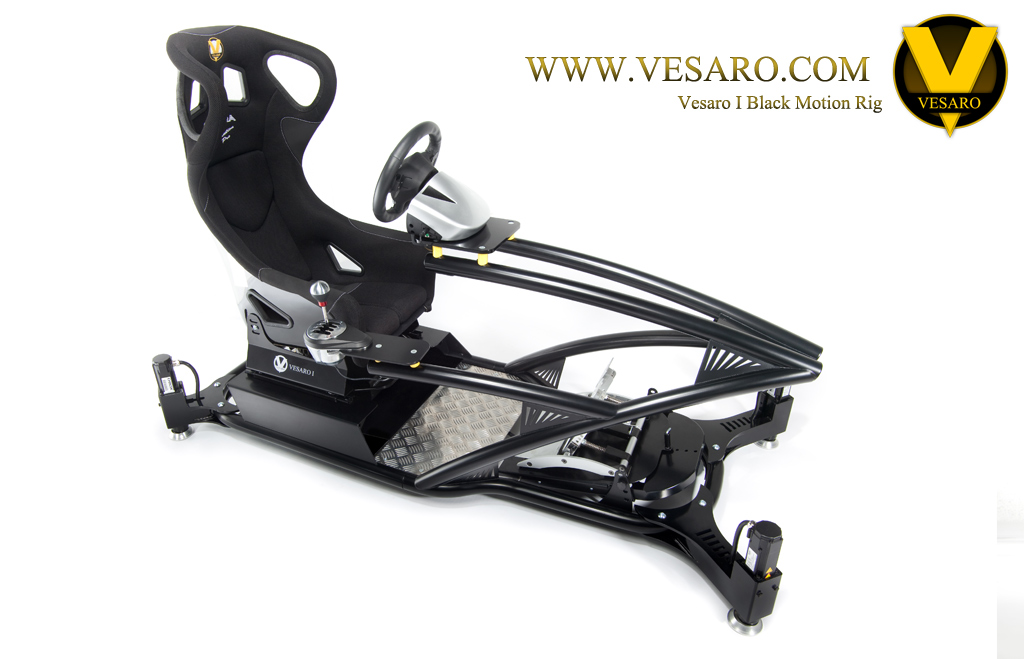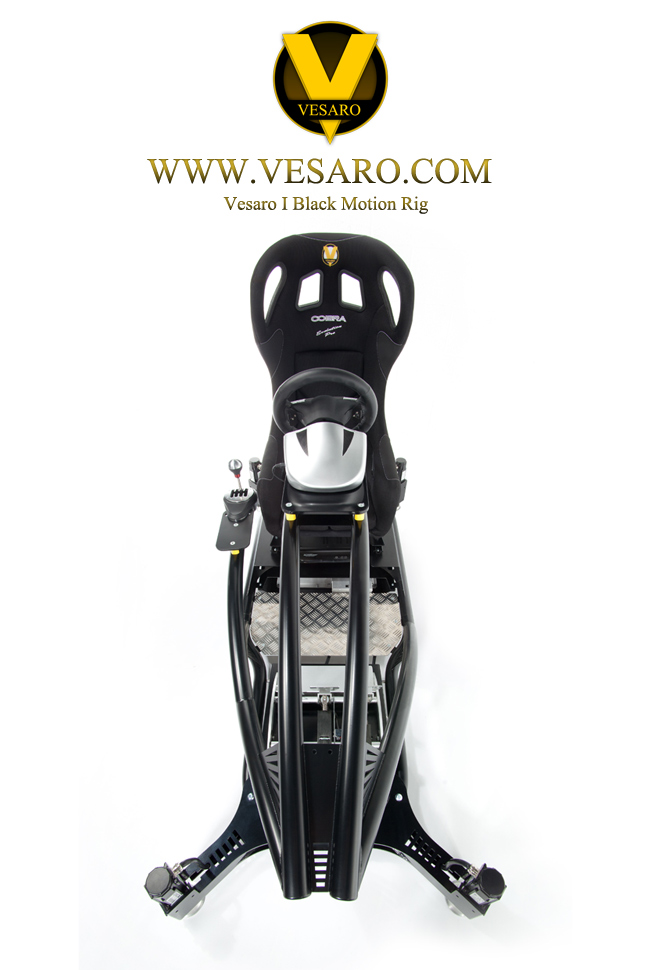 Posted on February 20, 2012
Example of the free standing triple display stand which demonstrates how the stand bridges over the frame allowing its position to be moved so that the distance of the display form the seating position can be adjusted up to as close as the steering wheel.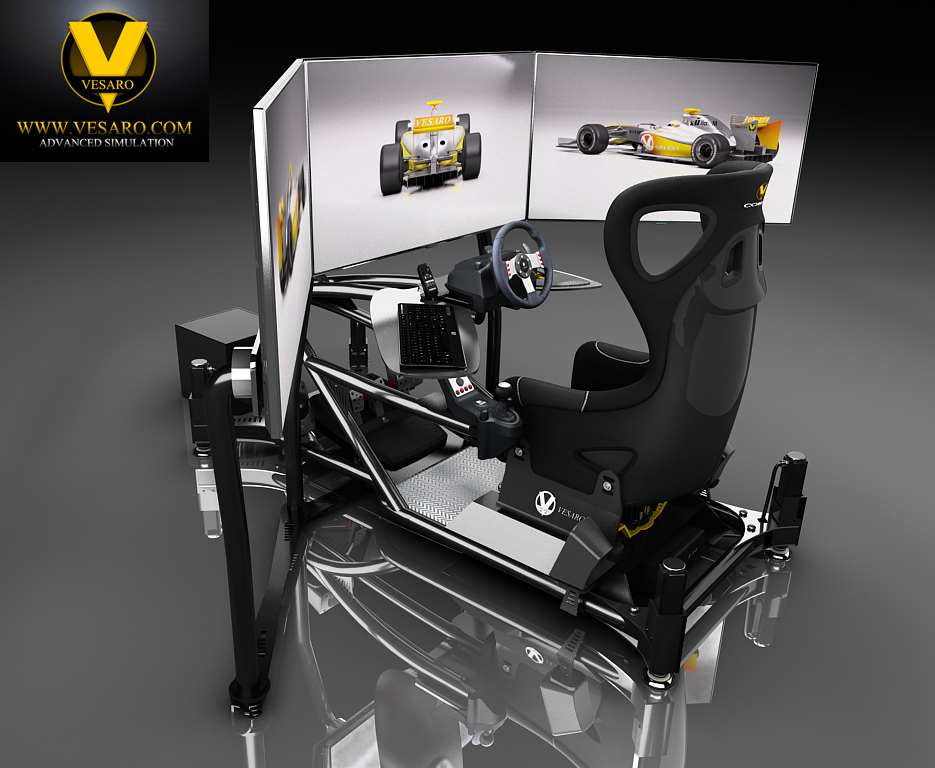 Posted on February 19, 2012
Example of the free standing display stand which demonstrates how the stand bridges over the frame allowing its position to be moved so that the distance of the display form the seating position can be adjusted up to as close as the steering wheel.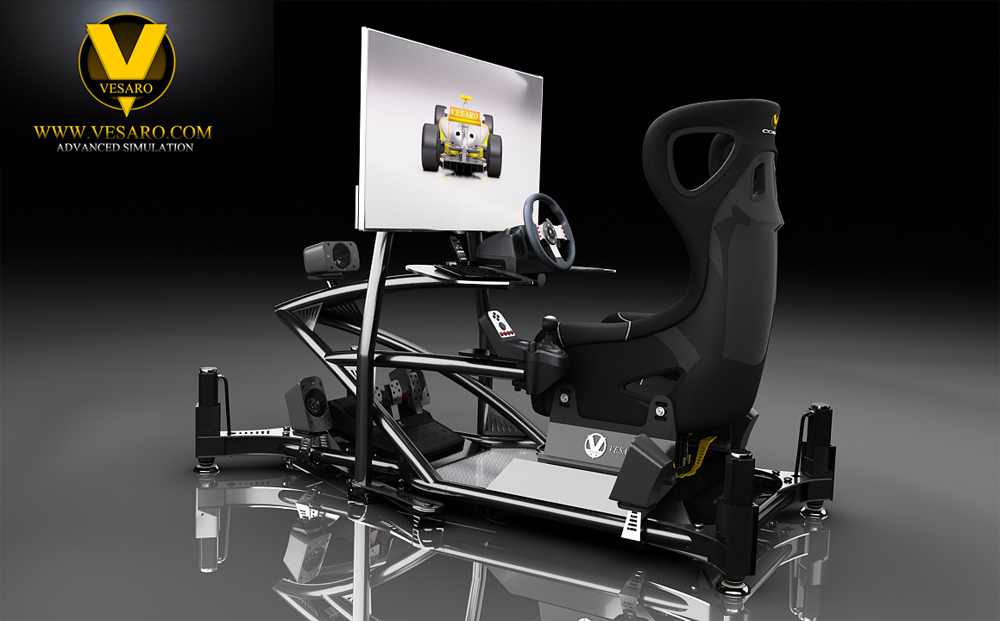 Posted on February 18, 2012
http://www.racedepartment.com/2012/02/rd-exclusive-interview-with-nevil-slade-of-vesaro-simulation-rigs/
In the increasingly competitive market of racing rigs and commercial simulators, a new contender is looking to enter the ring and go for gold. They go by the name Vesaro Advanced Simulation Rigs,  and they have recently been stirring quite a buzz in the sim racing community . A relative newcomer to the sim racing rig scene, Vesaro are confident that their unique modular design approach, among other things, will distinguish themselves in what is becoming an innovative market. They are starting to pump out their first line of rigs and have constructed a website that highlights all these rigs in beautiful detail. Vesaro offers various configurations that tap into different price ranges and consumer markets. Buyers have the ability to configure their own rig or choose from a selection of pre-configured rigs, with the option always made available to add more options to the core rig whenever the owner wishes to expand. Vesaro aims to give owners the ability to customize their own rigs with a sense of security knowing that their investment is protected by a ten year warranty.
Vesaro sounds the part on paper and has certainly built an aesthetically pleasing product. However, what is Vesaro really about and more importantly, who are the people behind the logo? I decided that these questions needed to be answered and was able to conduct a brief interview with Nevil Slade, CEO and co-founder of Vesaro. Nevil came of as an ambitious and highly skilled individual who was more than happy to answer questions regarding the Vesaro company and their products. As the interview reveals, the team put a lot of love into what they do and hope to be the next step in closing the gap between simulation and reality.  See below for our interview and a big thank you goes out to Nevil for taking the time to be interviewed by RaceDepartment!
Brandon Warren – RaceDepartment.com: Who are the people behind Vesaro and what sort of background do you have? How long have you been involved in the sim racing and motor sport community?
Nevil Slade – Vesaro: Vesaro was founded by my friend Robert Hunt and myself in early 2010.  I graduated from University with a Bachelor of Science Honours Degree in computer software systems for the Arts and Media and studied various other university courses prior to this in design technology, model design, manufacturing technology and manufacturing engineering.  After a 2 year stint as a deutsche Bank programmer I founded my own New Media company called Theory7 and became well known as an award winning designer. I completed projects for multiple global brands including Microsoft, Honda, Nissan, HP and Ford. I have been involved in the sim racing community on a serious level for the past 2 years leading up to the development of Vesaro. I have been involved with the motorsport community for the past 15 years as a keen motorsport enthusiast and general lover of performance cars. Robert founded his own engineering company around the same time I did and he benefits from 17 years of engineering, CAD, and fabrication experience… and has completed past projects for the Houses of Parliament, Emirates Stadium, and the Olympic stadium.  Robert's love of motorsport stems back over the past 15 years and has recently expanded that love into the sim racing and gaming community.
RD: How did you two come about creating Vesaro?
Slade: 10 years on and after gathering skills in Photography, Videography, 3D, Motion Graphics, Web Design, Social Media, Marketing and managing global projects for fortune 500 companies, I decided it was time to go direct to the consumer and build a cutting edge product on a global scale. I approached Robert, who has been a best friend of mine since the first day of primary school at age 5, with an opportunity to combine the skill sets of both and redefine the race simulation market with a truly open and modular commercial grade simulation system.  Our aim of combining these skills as the foundation of Vesaro is to lead the industry in presentation, marketing, product design, and engineering in a competitive and constantly evolving way.
RD: What are the best and worst parts of your job?
Slade: Job? We don't have jobs. We love sim racing, design, innovation, and overall we love Vesaro. There are no "worst parts" … I guess there are some aspects that can be difficult, but those aspects are what enable the best parts (of our company) to exist.
RD: In your own words, what do you think are the most important qualities that help distinguish Vesaro products and services from the rest of the pack? What do you offer that others do not?
Slade: Aside from the practical modular abilities of our system, the next goal was to create something beautiful, stylish, and deserving of the components combined with the frame.  For example, until Apple came along and told people, "you don't have to have grey and square PC's underneath your desk", they didn't know any different. We wanted to do the same with the sim market and let people know that they can have both a practical rig as well as a sleek design.  We hope that we have achieved that.
We believe our other strength is the ability to evolve and develop at a rapid pace, by having all the skills and resources that we need in-house this gives us the ability to develop, prototype and launch new products quicker than anyone else.
RD: What type of consumer are you currently targeting and will that expand in the future?
Slade: By developing a modular system, our market ranges from home gaming to hardcore sim racing up to professional race training with a product that can start at one end and be upgraded to the other without compromise.
RD: Who do you see as your direct competitor(s)?
Slade: Depending on the configuration of our system we enter into competition with different companies at different configuration levels. We have amazing competition from companies who we have the upmost respect for. This includes Vision Racer, VRX and CXC.
RD: What type of customer service can an owner of a Vesaro product expect? 
Slade: When buying direct from Vesaro we offer fanatical support, through many years of experience dealing with global brands we have applied this to Vesaro, providing nothing but the best.  Send us an enquiry and put it to the test.
RD: Describe why you chose to go with a Modular Design. What challenges does that design pose?  Do you plan on giving more modular options in the future?

Slade: When Vesaro entered this existing market it was our intention to put the power back in the hands of the consumer first and foremost…to give the customer the power to customize their system to suit their needs and have their system grow with them. As we looked at the market we found budget rigs, mid range rigs, and full blown professional systems. Our interest was mid range to professional systems and to build a system that could bridge the gap between the two with a modular approach.  Other high end products on the market have a closed system with little information of the individual components and a premium price tag for packaging it together, we wanted to provide access to all of the components that are used in creating a pro simulator, but let the customer decide what is most important for their use right now and build the system as their requirements demand more. To enable this approach to work we developed a central core frame that is fully welded to a commercial grade provided the strength for expansion from a standard rig up to a full blown and fully loaded D-Box motion simulator. Our decision to go this route was not a simple one and  was made purely on the fact that we could achieve this with the combined skills of our in-house team.  The complexity of supporting so many products in so many configurations takes extensive development, 3D pre-visualization, 3D engineering, and fabrication drawings. Our entire belief is giving the customer an investment that will last. We are going to further add to the existing core rigs as well. For example, we plan on supporting an entire range of Frex products in the future, all compatible with the Vesaro system.
RD: What are your favorite racing sims currently out there and what are you most excited for? Do you have a particular favorite form of motorsport?
Slade: iRacing is our goto choice purely for its realism and faultless integration with D-Box and the various racing wheels.  We are excited to see what SimRaceway do with their beta product, as well as the new Rfactor and CARS. My favorite form of motor sport is drifting, it matches Vesaro, it's not just about doing something with technical proficiency , it's also about making it look amazing. Oh and we love F1, need we say why?  F1 is as good as it gets!
RD: Where do you see the future of sim racing going and what role will Vesaro play in that future?
Slade: With the maturity of various factors, from physics, to force feedback and peripheral advancement, the line between real and sim has been closed even further, it's this advancement that will define the future, as people who would have previously not considered sim racing are now sitting up and taking notice, not just for fun but also as a serious alternative to professional race practice and training.  Vesaro's role will be to integrate these advancements applying our core strengths to every evolution.  Vesaro will no doubt evolve as the industry does, how it will evolve, we do not know yet, but we will.
RD: Thank you for your time.
Posted on February 15, 2012
photo of our black motion rig in our permanent photo studio setup, photos from this shoot and video to come over the coming days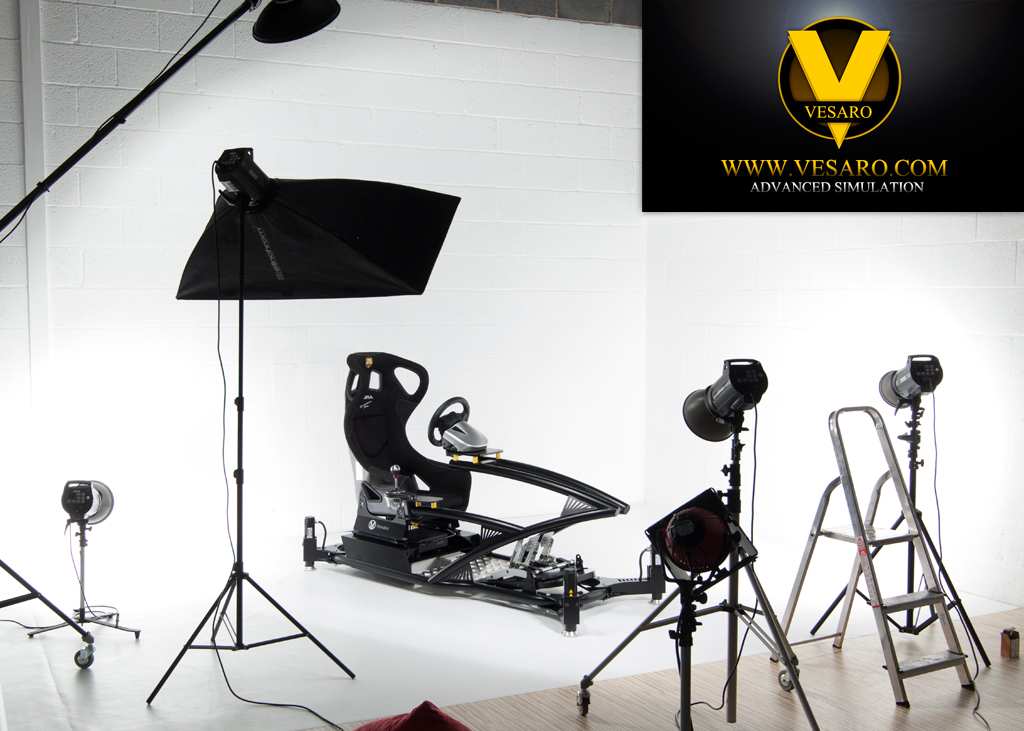 Posted on February 14, 2012
We have started photographing our rigs now and will be releasing pictures of various configurations as we build them, here is a standard non-motion rig with the Evolution Pro seat, Logitech G27 and buttkicker Advance tactile feedback system.