Posted on May 23, 2014
Does simulation training make a difference? Audi WRT driver Laurens Vanthoor's first time on the full circuit at Brands Hatch for the Blancpain GT Series race, after spending only 1 hour training on a Vesaro motion simulator setup in the pit garage, resulted in him setting the fastest time in qualifying... P1
We work hard to create machines that can make a difference to racing drivers and to see such positive and direct results is truly inspiring.
Lauren trains using a 4 actuator Vesaro motion system using Lazer scanned tracks recreated by the motion system to within 4mm accuracy.
Watch the video from the day below
Posted on May 19, 2014
Vesaro are proud to announce the launch of 321 Play Simulation centre in Hong Kong. The centre has 9 Vesaro Simulators which are networked together for multiplayer racing. We also installed a complete Sim Room management system allowing the centre to fully manage visitors to the centre, remote control all 9 pods from a single control PC including boot up, shut down, setting up races, starting and stopping races, not to mention full telemetry data and a host of other features. In addition we setup a projection display onto the wall showing the race in progress for visitors to the centre. Our team flew out to Hong Kong to complete the install and provide training on using the software enabling the business to launch quickly and efficiently.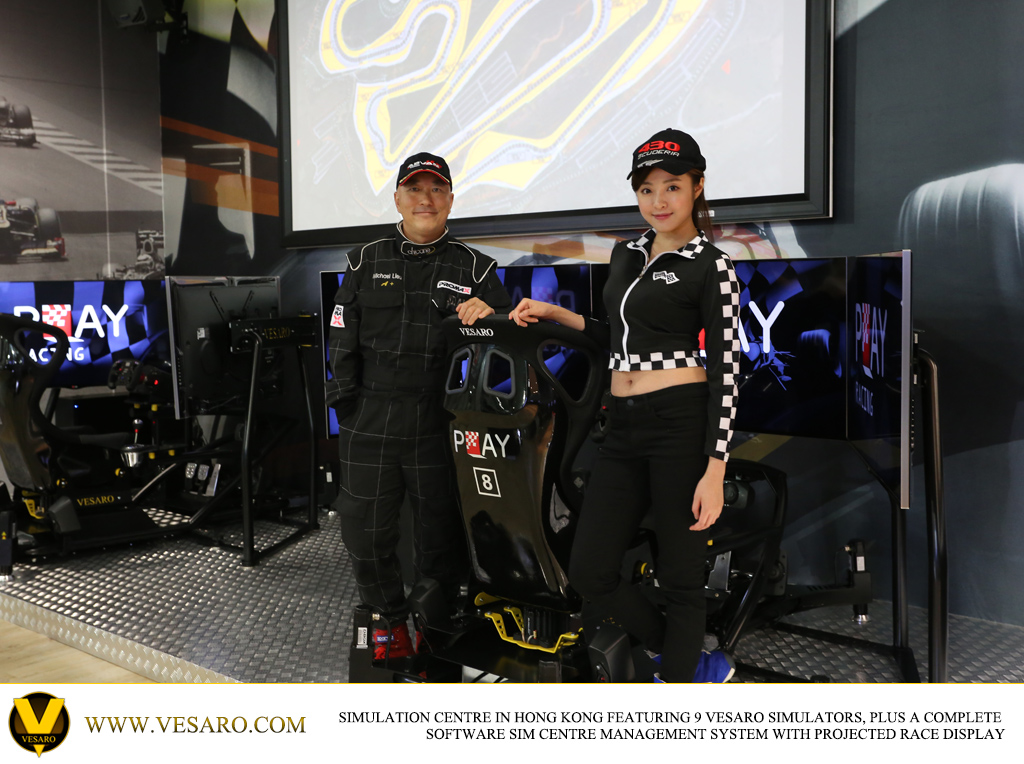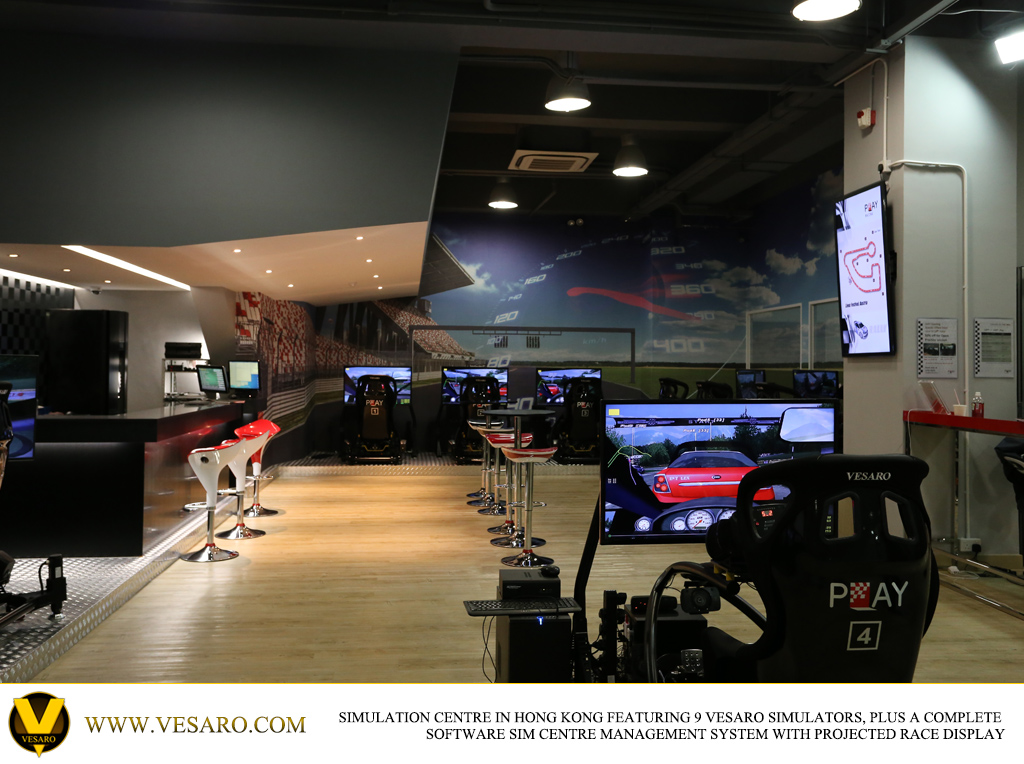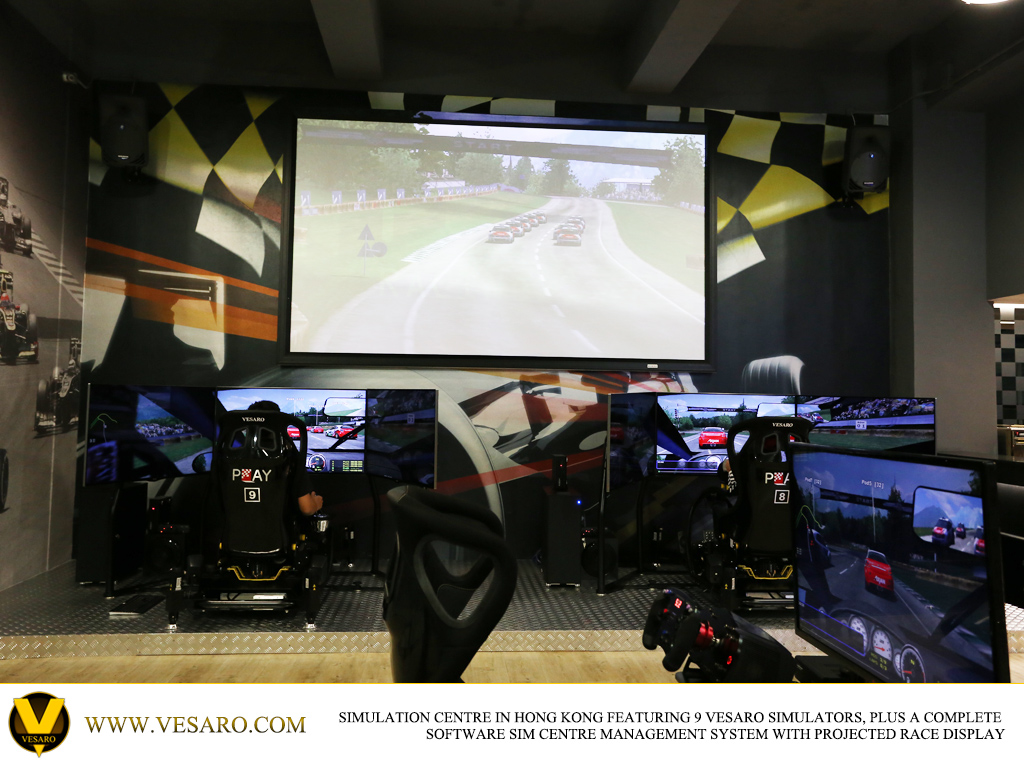 Posted on May 15, 2014
Vesaro is very exciting to start working with Laurens with whom we will be working closely in fine tuning the Vesaro racing simulator range. Vesaro will be sponsoring Laurens in his career where he will be training on a Full motion Vesaro simulator. Using Lazer scanned tracks re-creating the surface detail to within 4mm accuracy will enable Laurens to learn circuits in advance giving him the edge when it comes to race day.
Professional Race Driver for Audi.
2014 FIA GT Champion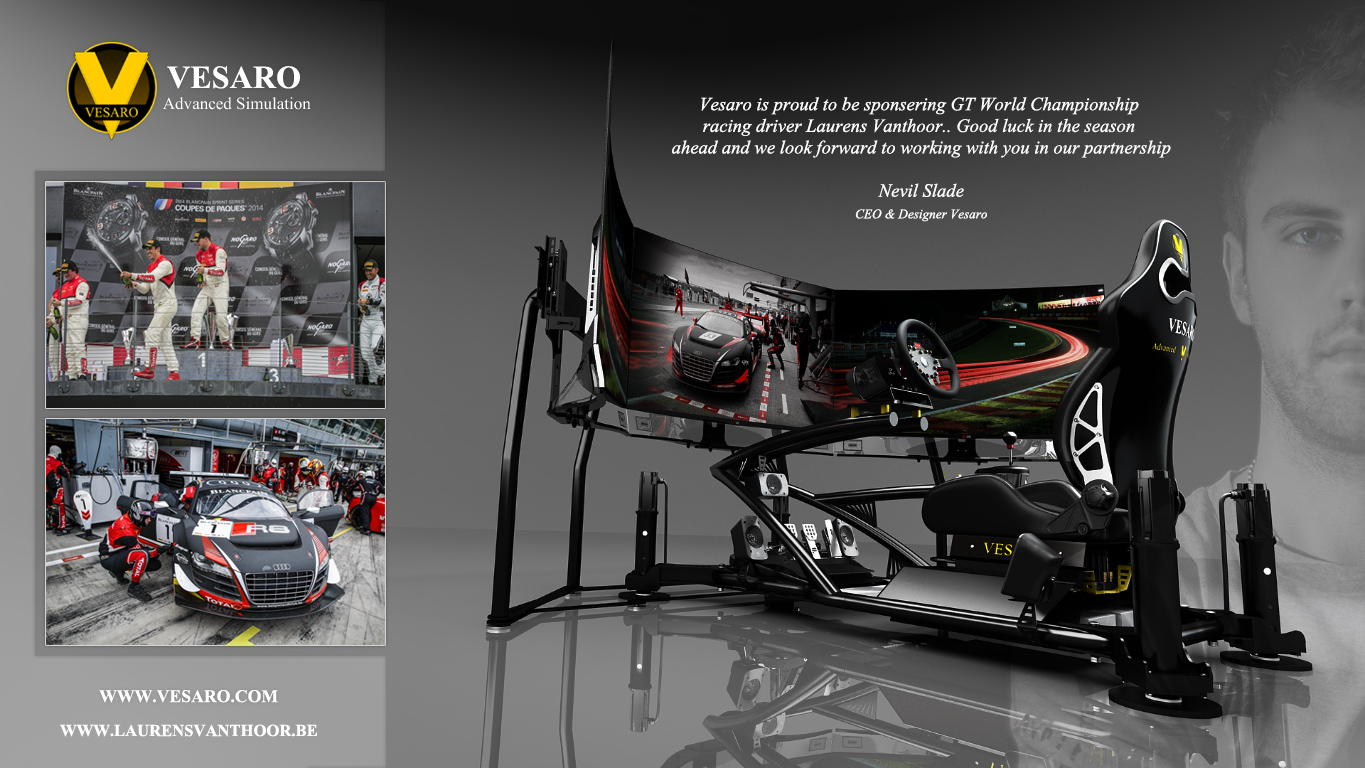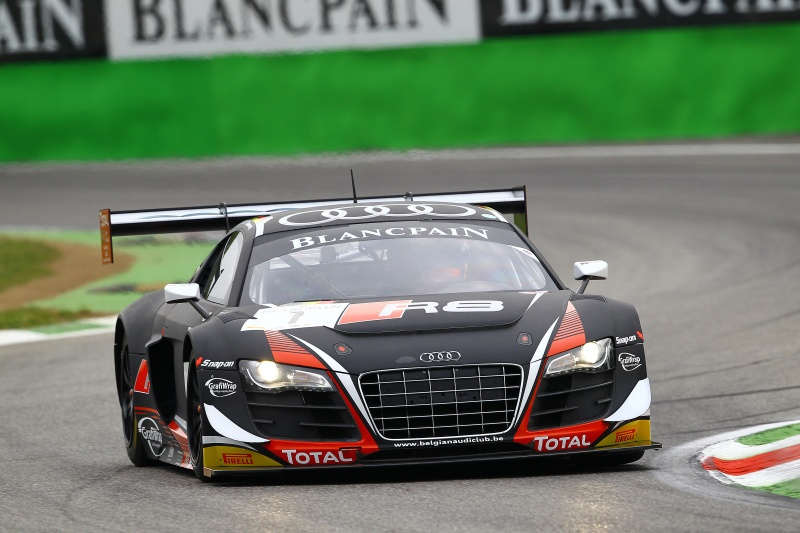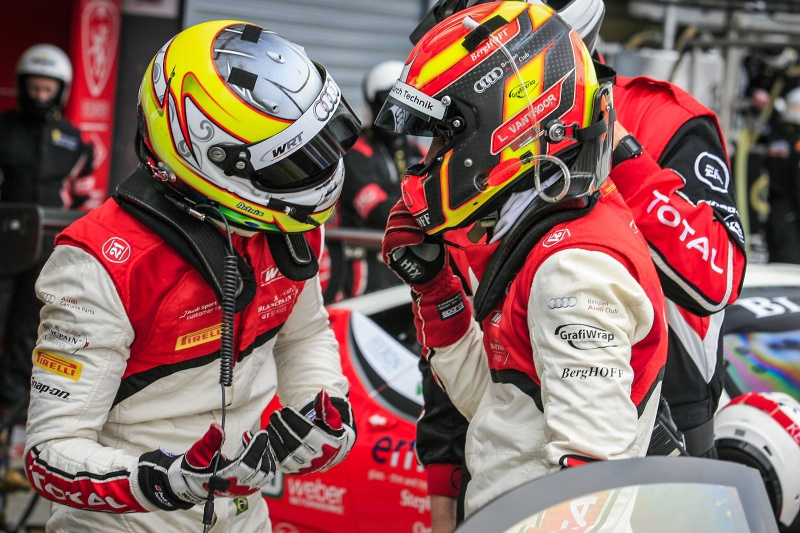 Posted on May 15, 2014
Introducing a new Special Edition Extreme setup
The Vesaro I Evolve Extreme Special Edition includes the worlds first 55 inch Triple Curved OLED display setup offering a massive 165 inch of screen curving around your seating position for an immersive experience that will leave you breathless.
At the heart of the Evolve Extreme is our Level 4 Extreme PC ensuring the visuals sent to the three Curved displays are performing at their best, with two Radeon HD7990 6GB graphics cards housed in a double width brushed aluminium case the Level 4 Extreme PC is packed with powerful industry leading components.
The Evolve pushes the envelope with cutting edge 6 inch motion technology taking the range of movement to a new level of extreme realism, this system is not for the faint hearted.
Specification:
Vesaro I modular racing simulator";
Black powder coat rig
Gear Stick Arm (Choice of Left, Right, Both or none using the Configurator
Cobra Evolution Pro Vesaro Signature bucket Racing Seat(Choice of Evolution Pro GT, Misano S 7 Monoco Pro from the configurator)
Fanated Clubsport Package - EU Base, F1 Wheel, BMW GT Wheel, Clubsport V2 Pedals
Thrustmaster TH8RS Shifter
Buttkicker Advance Tactile Feedback System
Logitech Z906 THX 5.1 Surround Sound System
5 x Speaker Brackets
Triple Display Stand and 3 x Curved Display Bracket Sytems
3 x LG 55 inch Curved OLED Displays
Vesaro Quad Motion V-Spec 6.0 - 4 actuator 6 inch Travel DBOX motion
Vesaro Sim - Level 4 Extreme - PC
Software Race Pack - Level 3
Cable & Electronics Pack - Level 3 Quality Components - Ultra High End
Cable & Adaptor Kit - Triple Display - Quality Level 3 - Ultra High End
10 year chassis warranty(Terms & Conditions Apply)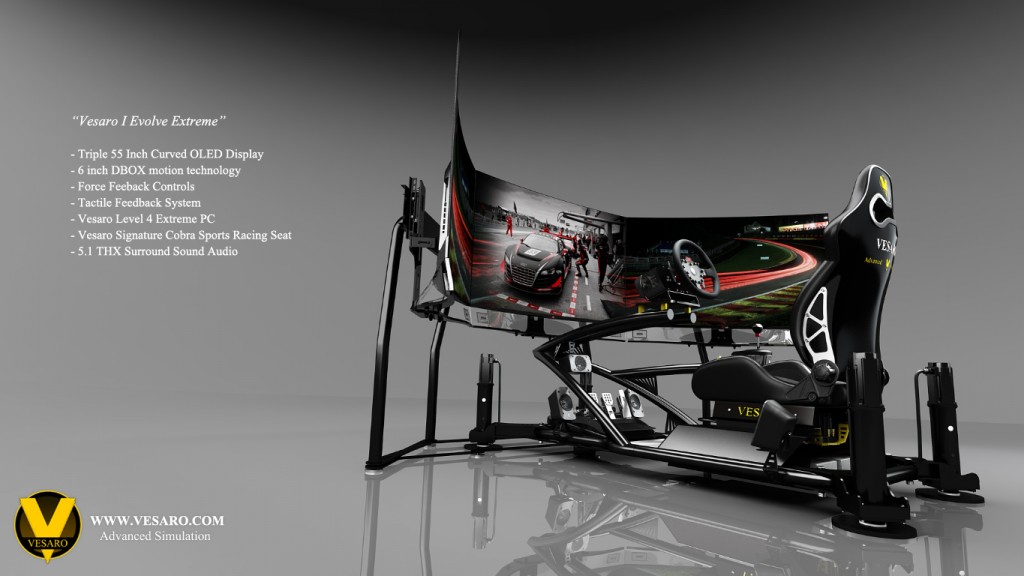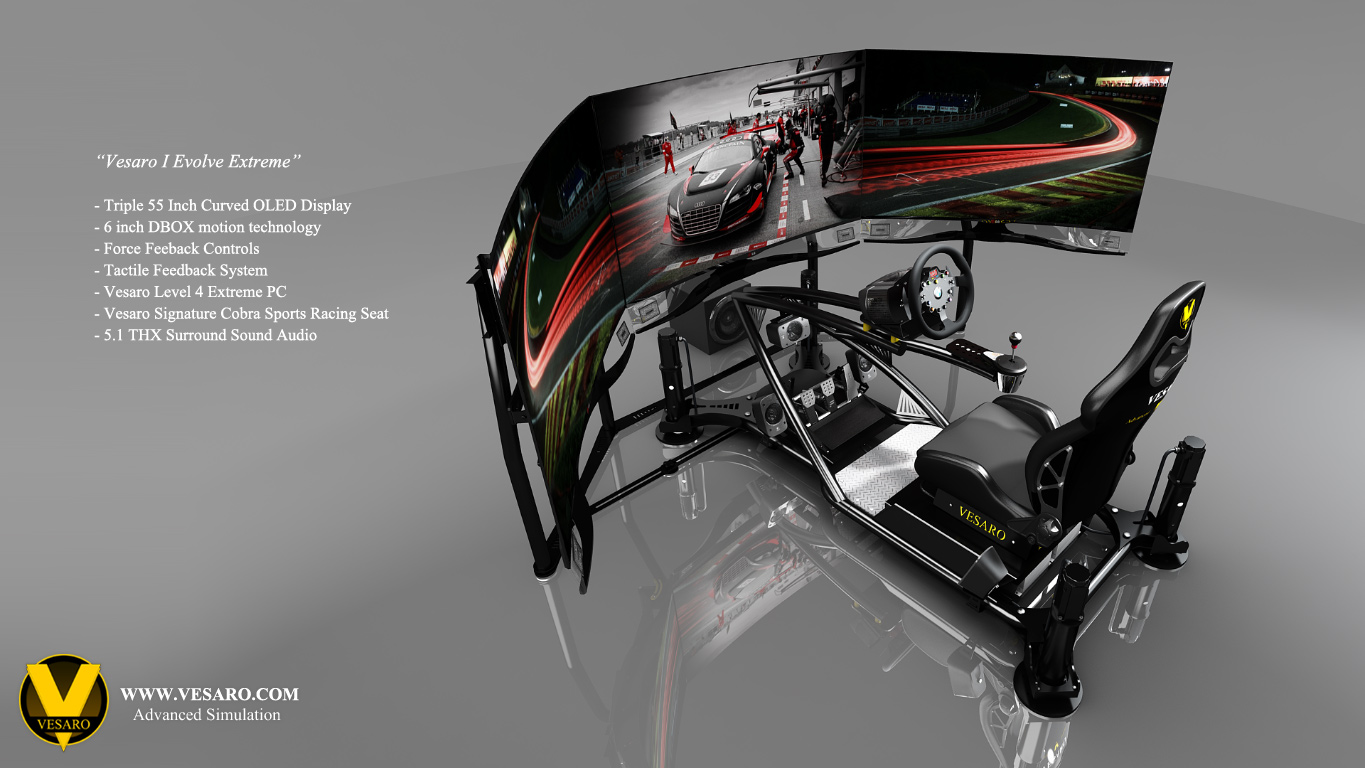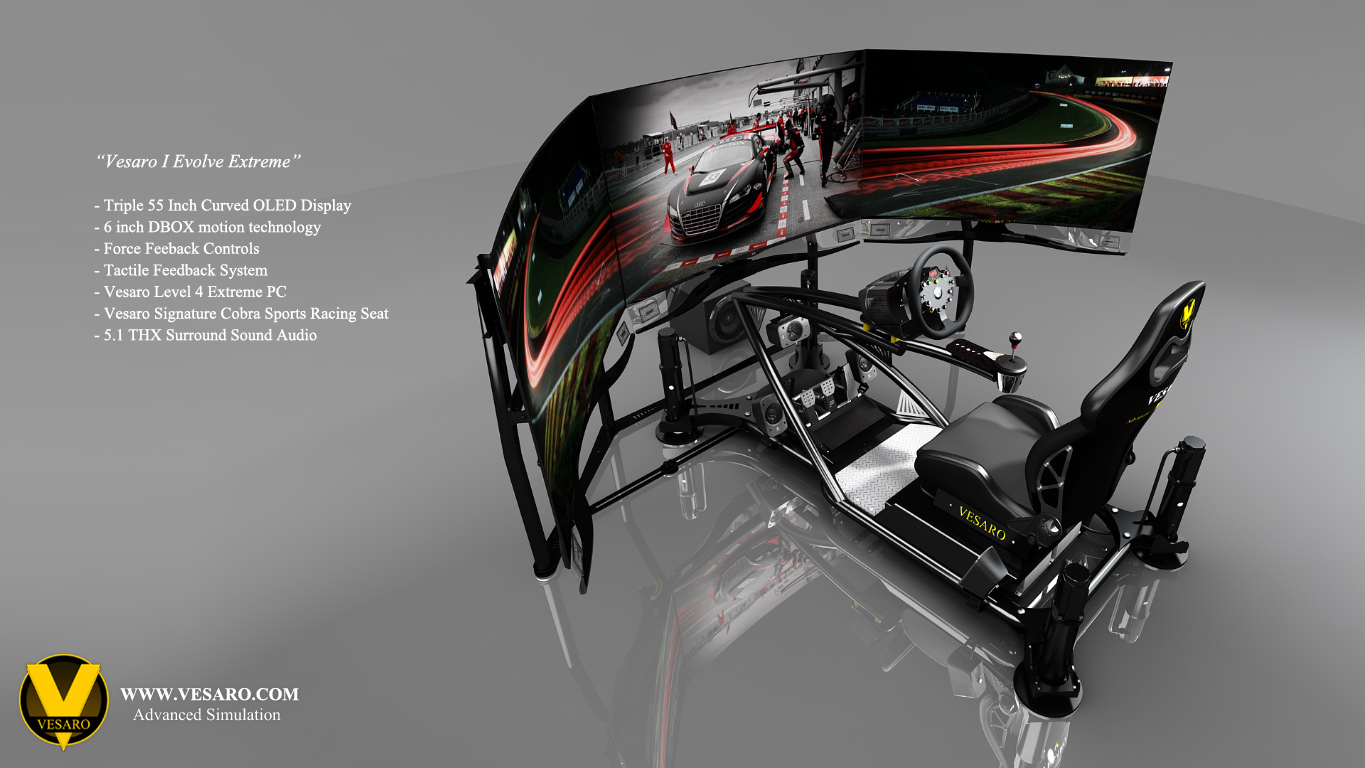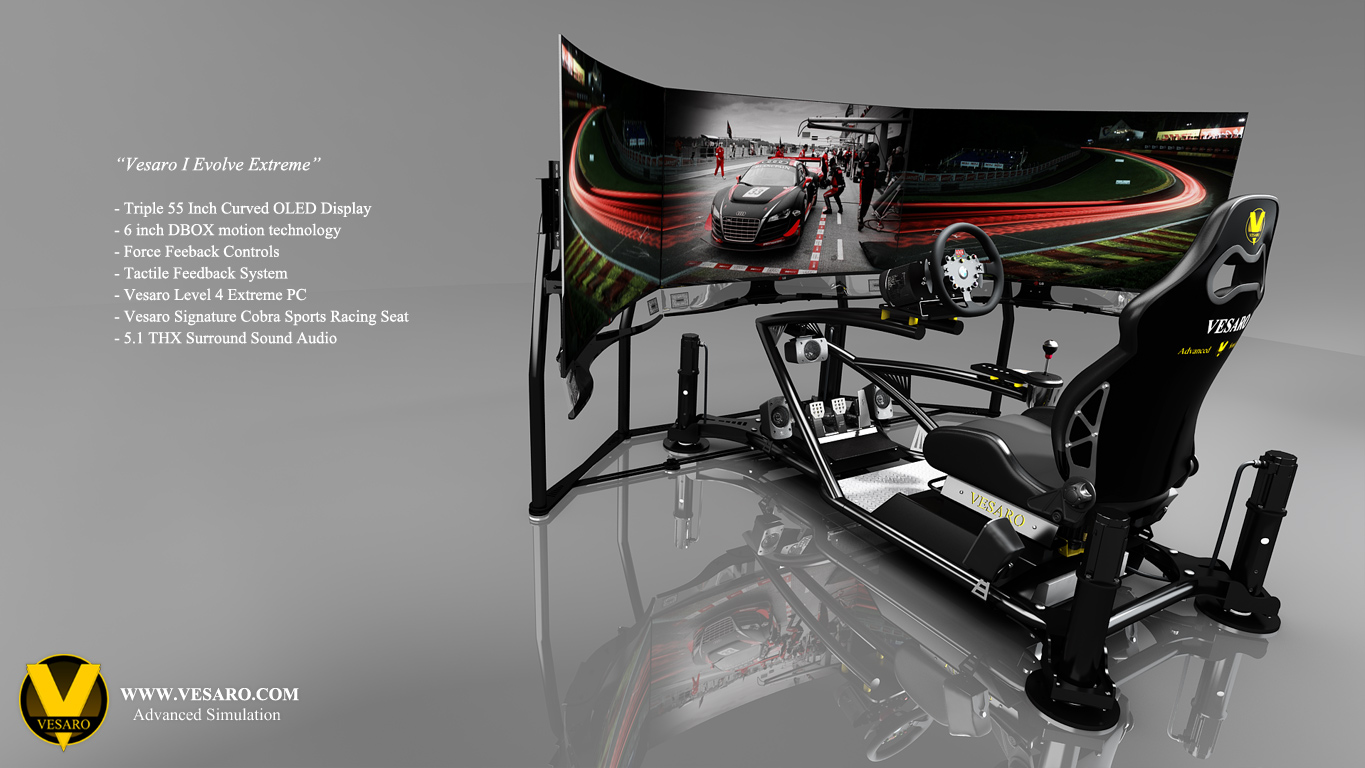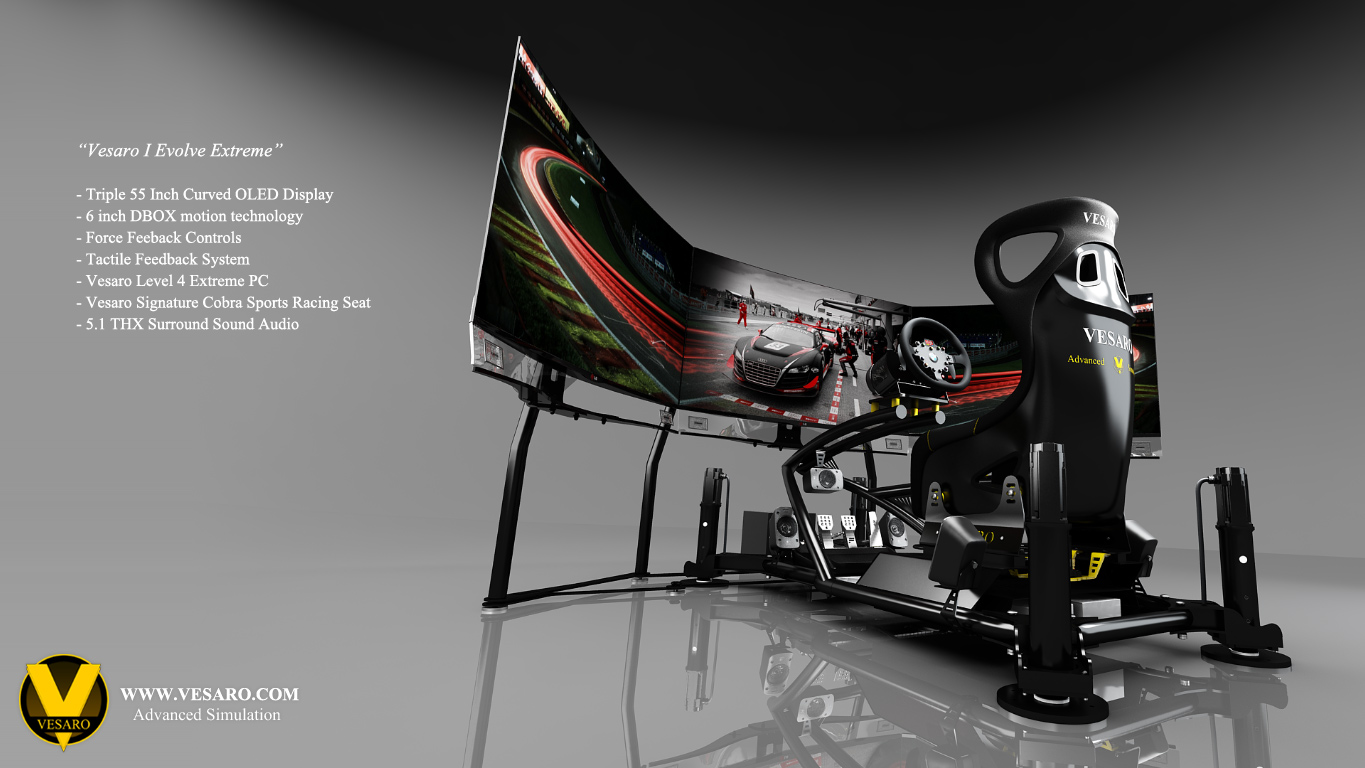 Posted on May 12, 2014
We are proud to be at the cutting edge of technology once again with the another worlds first. In the form of a new Special Edition setup, the "Vesaro I Evolve Special Edition Extreme" we have created a triple formation of the stunning LG 55 inch Curved OLED display offering 165 inches of curved display. Partnering with LG to bring this groundbreaking product to market we have created The displays float above the Vesaro simulator wrapping around the seating position giving a level of immersion just not possible with three flat screens.
Although alternative methods such as triple projectors onto a curved screen offer a greater curve in the screen, nothing can compare to the practicality of using an LED or OLED style display, a single remote key press to instantly switch the three screens on or off and no issues with lighting conditions that can be found with projection style setups. In addition the deep rich blacks that OLED technology offers makes the visuals of the simulation that much more immersive, it really has to be seen and experienced to be believed and we hope to be showcasing this technology at future events.
The displays feature a stunning carbon fiber back making them as stunning to look at from the rear as from the front, with a 4mm thick screen this is cutting edge screen technology taken to the extreme. Combining three of these stunning displays creates the ultimate visual solution for your Sim Racing, Flight Sim or First person shooter games.
We have created two packages, a Single 55 Curved OLED package and a Triple 55 Curved OLED package, to be found in the Evolve Special Edition setups or configured as part of our Core range and Commercial range of simulators.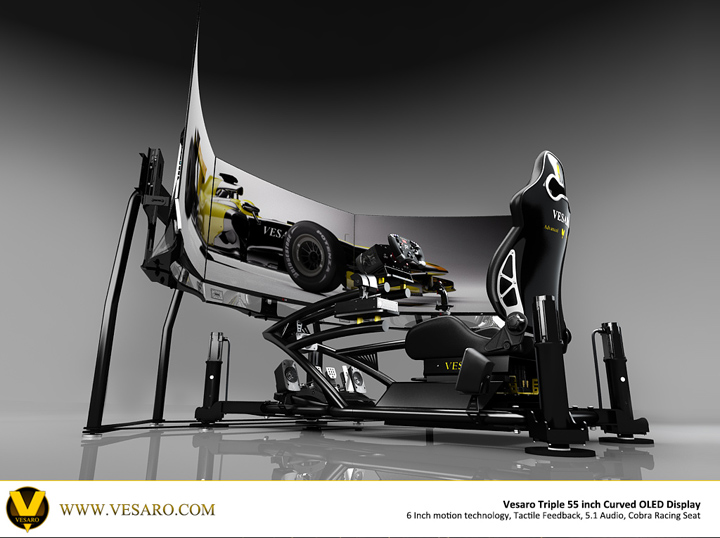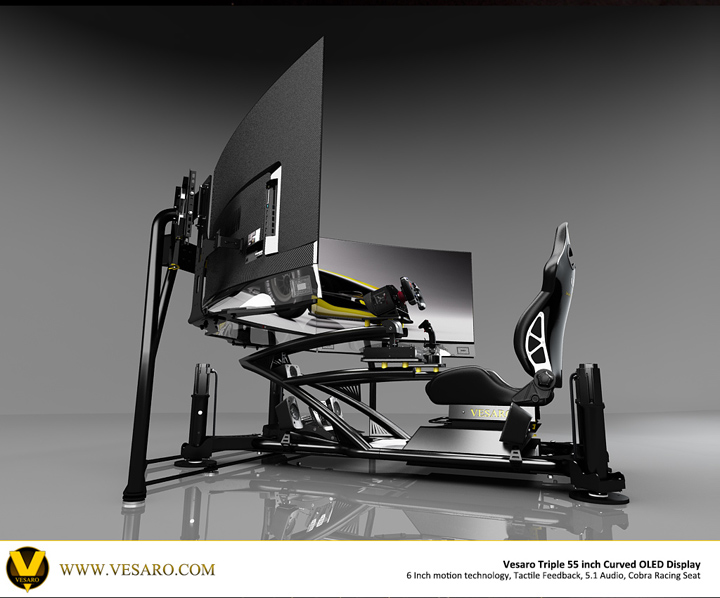 A short video showing the Triple Curved OLED Display setup in use Vesaro Triple Curved OLED Display