Posted on June 28, 2014
Grid Autosport was released yesterday, Vesaro is in the game so look out for the Vesaro Track Specials Cup in the Open Wheel Category and the Endurance Legends Cup
Posted on March 20, 2013
Vesaro teamed up with tech giant LG for the Gadget Show Live in London with a Triple 47" LG cinema TV setup on our full motion racing simulator. Gadget Show TV presenter Jason Bradbury did several laps of Spa and made it on the leader board.
We hit the show in full force with an additional full motion system running Dirt 3 on the Overclockers stand given visitors to the show a broad experience of Vesaro simulators with both F1 and rally setups available to try out.
Posted on March 20, 2013
Vesaro headed to Eurogamer Expo with Codemasters to preview the soon to be released Grid 2. We where running an exclusive preview of the game on our full motion triple screen simulator providing visitors to the event with a chance to get there names in the actual game as AI drivers.
Posted on March 20, 2013
Vesaro visited Codemasters headquarters for several days of testing and optimizing of Grid 2 in readiness for EuroGamer Expo where visitors to the show would get the opportunity to try out Grid 2 on a Vesaro full motion Triple 46 inch screen racing simulator.
Posted on January 18, 2013
Vesaro teamed up with Codemasters and headed to an abandoned air base for a day of filming with the BBC, Ken Block and Sir Chris Hoy spent some time on our simulator running dirt 3. Ken Block spent time out on the track teaching Sir Chris Hoy some rally driving techniques and time on our simulator practicing on dirt 3.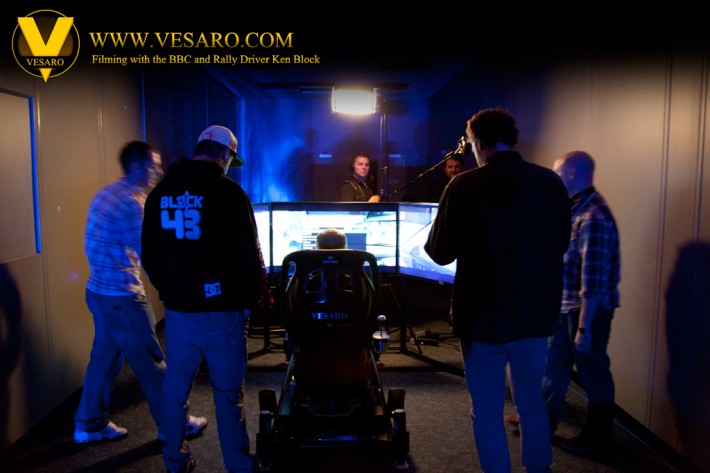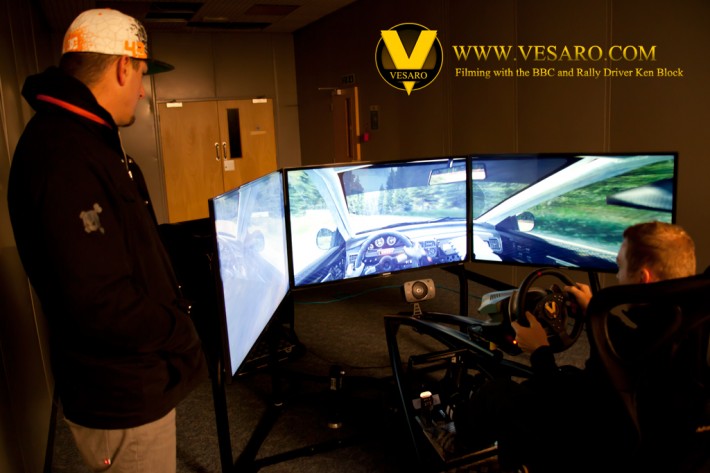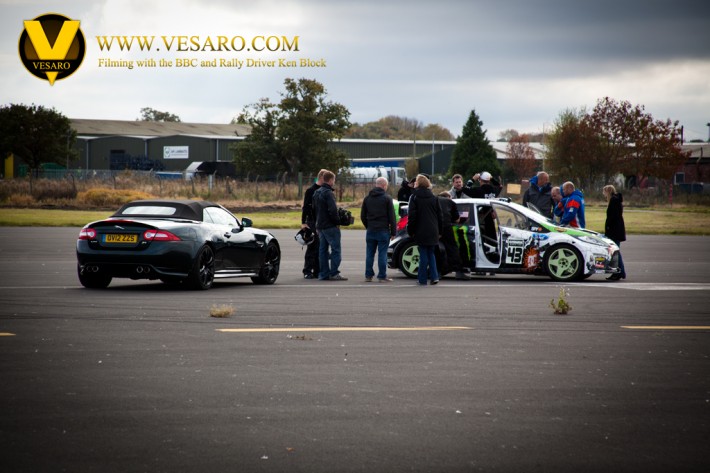 Posted on December 22, 2012
Vesaro spent a week at Codemasters HQ tuning and optimizing our motion simulator with the team, while there Force India F1 driver Nico Hulkenburg came in and spent an hour on the Vesaro motion simulator and gave some great feedback on the experience of our rig and F1 2012.
Posted on December 19, 2012
Vesaro Triple Display Full motion simulator, Test Driven by Nico Hulkenberg At Codemasters Head Quarters in the UK, Running F1 2012.
Posted on October 15, 2012
Nico Hülkenberg popped into Codemasters HQ, where we spent a week testing and developing our system with Codemasters.  Nico spent over an hour testing our rig running F1 2012 and gave very positive reviews of our product, it doesn't get better than that.
Posted on October 15, 2012
Vesaro partnered with Codemasters for the Eurogamer Expo 2012 where we had pride of place at the show on the headline sponsers stand Virgin, a fantastic competition was run to win a place in the game as one of the AI drivers running on our Triple 46" screen Full motion D-Box powered Vesaro simulator