Posted on August 14, 2013
Our new flight simulators featuring the Vesaro V-Spec motion system.  The V-Spec motion utilizes cutting edge DBOX motion technology with 6 inches of travel per actuator.  In this video we are doing some simple test flights in the south of england using X-Plane simulation software.
This is another worlds first for Vesaro bringing this exciting technology to the industry as part of what is the most versatile and up-gradable simulation system available on the market today.  This new technology can be added to your existing Vesaro simulator whether you have a static non-motion setup or already have one of the other motion systems in our range.
The V-Spec motion will compliment our other systems providing a complete range of motion systems to suit every need and budget.
DBOX 6" 4500HD technology offering a new dimension of movement for multiple applications, taking our flight simulators to new realms of movement and adding increased realism for racing  The setup shown in this video makes this technology available to both racing and flight applications with a dual control setup allowing you to instantly switch between flight and race with the click of a button.
The setup includes the standard Vesaro Rig with Dual GearStick Arms, Tactile Feedback System, 5.1 Surround sound audio, Fanatec Clubsport EU Base with the F1 Rim(removed during flight mode), Fanatec Clubsport Pedals V2, Thrustmaster Warthog Flight controls, Triple Display stand with 46" LED displays and the new Vesaro V-Spec Motion System featuring DBOX 4500 HD-6 technology and the all new Vesaro V-Spec bracket setup.
Posted on January 18, 2013
Vesaro will be partnering with DBOX for this years Integrated Systems Europe in Amsterdam. We will be running a Triple 46" screen full motion simulator.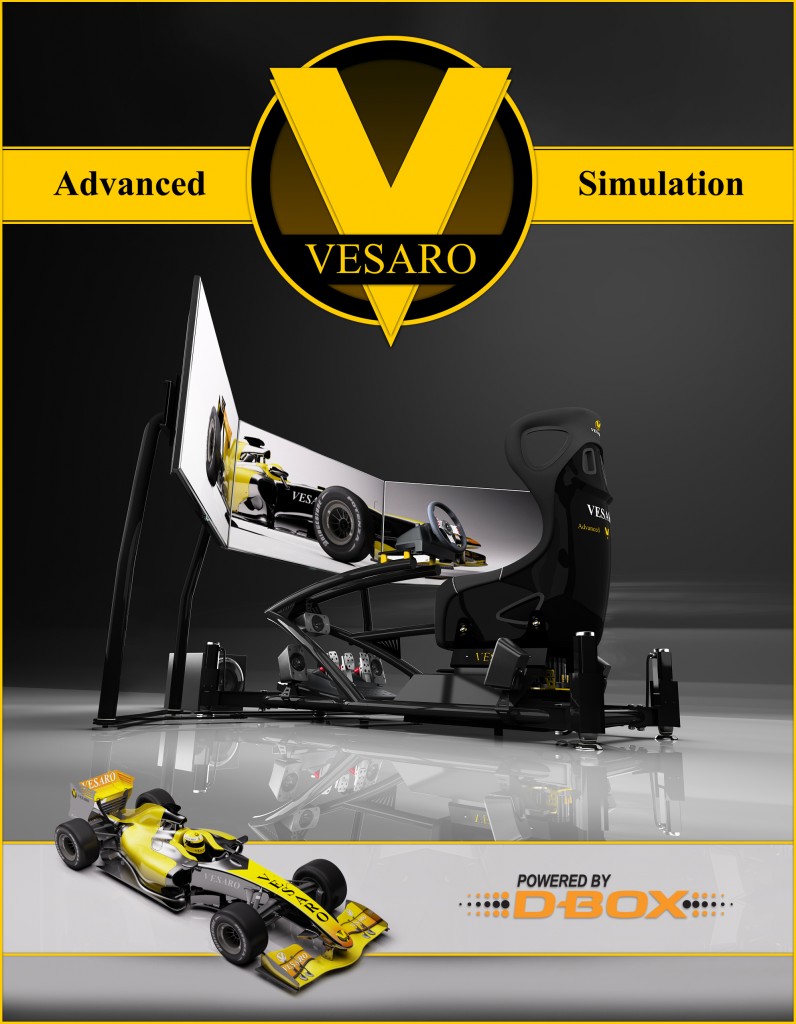 Posted on December 22, 2012
Vesaro spent a week at Codemasters HQ tuning and optimizing our motion simulator with the team, while there Force India F1 driver Nico Hulkenburg came in and spent an hour on the Vesaro motion simulator and gave some great feedback on the experience of our rig and F1 2012.
Posted on December 19, 2012
Vesaro Triple Display Full motion simulator, Test Driven by Nico Hulkenberg At Codemasters Head Quarters in the UK, Running F1 2012.
Posted on October 15, 2012
Nico Hülkenberg popped into Codemasters HQ, where we spent a week testing and developing our system with Codemasters.  Nico spent over an hour testing our rig running F1 2012 and gave very positive reviews of our product, it doesn't get better than that.
Posted on October 15, 2012
Vesaro partnered with Codemasters for the Eurogamer Expo 2012 where we had pride of place at the show on the headline sponsers stand Virgin, a fantastic competition was run to win a place in the game as one of the AI drivers running on our Triple 46" screen Full motion D-Box powered Vesaro simulator
Posted on February 20, 2012
Example of the free standing triple display stand which demonstrates how the stand bridges over the frame allowing its position to be moved so that the distance of the display form the seating position can be adjusted up to as close as the steering wheel.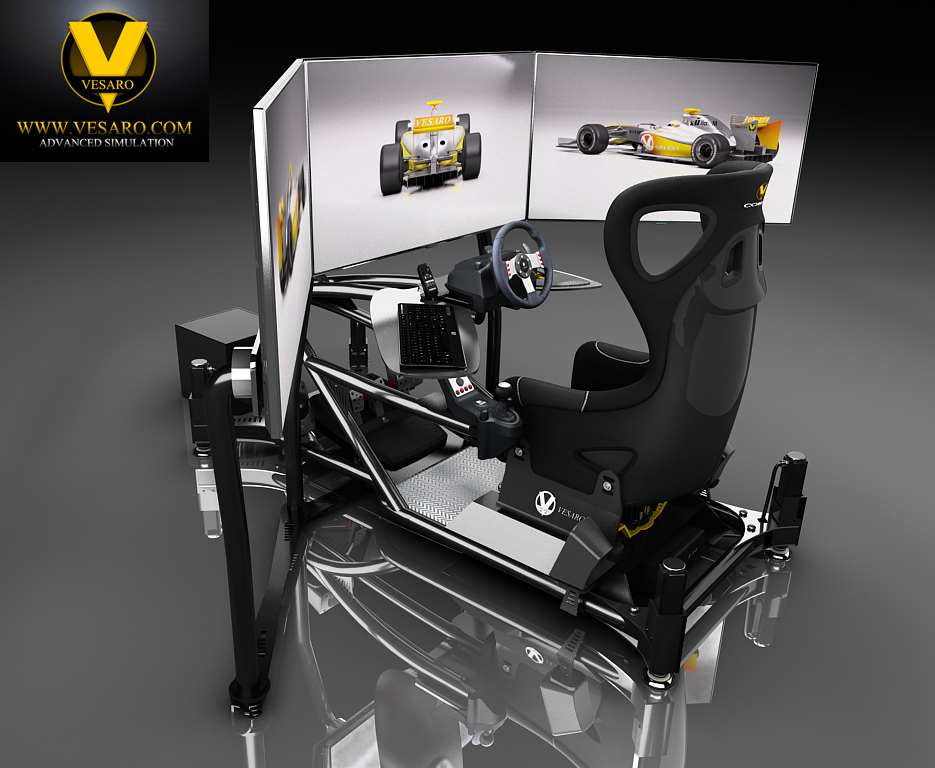 Posted on December 16, 2011
We have compiled a breakdown of the Vesaro system features:
Commercial grade simulator construction.
Lazer cut and tig welded mild steel/Stainless steel construction.
Choice of Semi Gloss powder coat or mirror finish polished stainless steel.
Custom bespoke design and fabrication to suit your needs.
Fully adjustable pedal plate using a slide runner system
Pedal adjustment features quick release & locking function for easy repositioning.
Adjustable pedal plate angle for total flexibility.
Fully adjustable seating position using a quick release slider system.
Adjustable seating height position.
Choice of Left or Right gearstick arm position or choose no gearstick at all if you prefer to use the paddle shifters for gearchanges.
Professional racing seats from world class seat maker Cobra, choices include the Cobra Monoco Pro, Cobra Misano S recliner and the Cobra Evolution Pro.
Buttkicker Advance wireless and the Buttkicker BKA300 Amplifier for a fully immersive tactile feedback experience using our custom designed tactile feedback bracket system.
THX Dolby Digital 5.1 Surround sound audio plus our surround sound bracket system. Optical input for the best reproduction quality of surround sound.
Support for the Logitech G25 & G27, Fanatec and Thrustmaster T500RS wheel and pedal sets. Other wheel and pedals sets also supported.
Single and triple display stands with adjustable distance from the seating position using an intelligent design that allows the framework to move over the top of the rig with the support structure below the rig.
Mouse pad holder bracket and Keyboard holder bracket for PC use or can be used as general multipurpose platform.
D-Box Motion physics system A Multi-Sensorial Revolution Motion editing is a new artform, a new sophisticated discipline where art meets technology meets gaming. It leads to the rise of MFX, a multi-sensorial revolution in gaming. Action becomes motion. Sounds become motion. Events become motion. Brace yourself for an entirely new, unforgettably immersive experience. All of this is made possible by the patented, award-winning technology. Only D-BOX offers MFX using 3 types of intelligent movement (subtle pitch, roll and heave) to move you gently forwards and backwards, from side to side and up & down. Combine that with the D-BOX-encoded intelligent vibrations and it all comes together to create the most amazing, all-encompassing simulation experience ever.
Vesaro dedicated sim PC systems - custom designed and built for advanced simulation and extreme gaming. Our hybrid water/air cooled systems use only the best industry leading components and are designed to ensure future proof compatibility with the Vesaro motion system and triple display setups. Every system supports triple display output at high resolution and comes pre configured for the Vesaro motion systems D-Box motion code. In addition all systems come with digital optical audio ensuring true digital surround sound when linked to the 5.1 surround sound audio systems that are available with our rigs. Wireless networking/broadband connectivity also ensures that your Vesaro rig is not tied down.
Vesaro PC systems come with 3 months membership or credit to iracing.com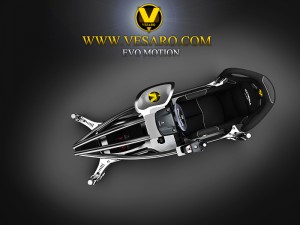 Posted on December 1, 2011
The central core rig
The central core comes in a Black finish or Polished Stainless Steel for the ultimate in durability. The front half of the rig is a single welded frame creating an ultra strong and stable platform. By avoiding the use of several parts bolted together potential weak points are eliminated. The rig is made up of two main parts, the front and rear section connected together by only two bolts making the rig easy to disassemble and store or move to a new location. With our design we have no centre post which can obstruct the drivers leg movement and create difficulty entering and exiting the rig, instead our design realistically simulates the environment in which you would find yourself if driving a real life race car.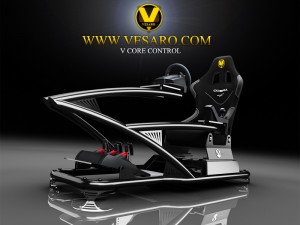 Professional Cobra seats
A choice of professional Cobra seats for the ultimate in comfort and realism, with the ability to upgrade or change your seat choice to suit your exact needs. Seat choices include the Monoco Pro FIA Bucket Racing Seat, the Cobra Misano Reclining Racing Seat for a more refined experience or the Cobra Evolution Pro FIA Bucket Racing Seat for complete racing authenticity. For information regarding other compatible Cobra seats that we have available get in touch with the Vesaro team.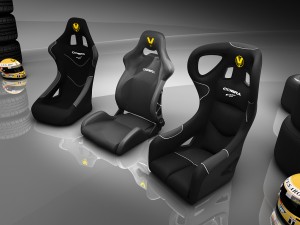 Modular design
The central core rig is built with full motion capability in mind and therefore is designed to be super strong and rigid, this approach allows you to start with a non motion core rig and upgrade later. Our system allows you to scale your rig from casual simulator to a full motion triple screen system without having to replace your initial investment in the core rig.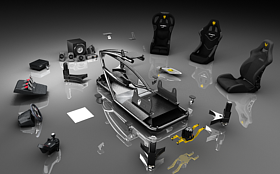 Advanced adjustable system
The pedal plate can be easily adjusted backwards and forwards and up and down to accommodate a wide range of driving styles and people. In addition the seat can be easily adjusted using the quick release handle.
Multiple control support
Our system supports the most popular high end control sets including Logitech G25 & G27, Fanatec and the Thrustmaster T500RS.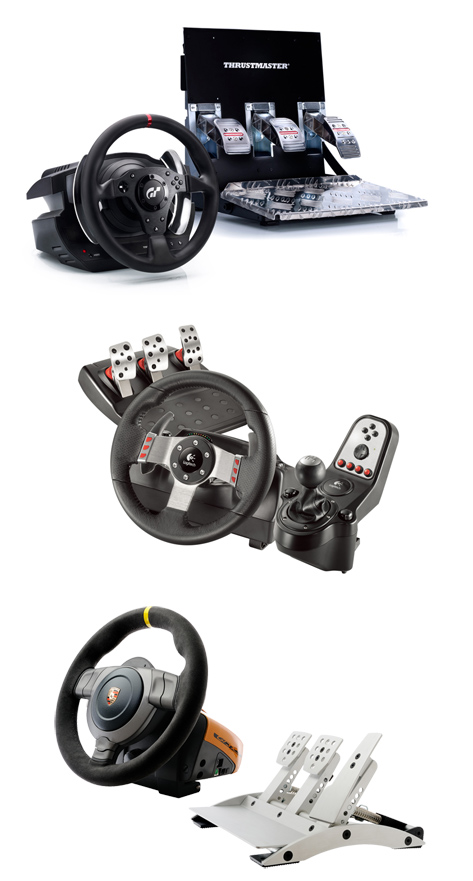 10 year warranty
We are proud to offer a 10 year warranty on All Vesaro Manufactured components, if something breaks as a result of a manufacturing fault or material defect, we will fix it. (One or two year manufacturer's warranty on all electronics and Seats)
Fanatical support
We are fanatical about support, that is our promise to you, we've built a system that will grow and change with you, with the understanding that if you need our help, we will be there.
Real world tuned
Tactile feedback - The vesaro rig was designed and tested using a real world comparison example to gauge the correct feeling transmitted through different parts of the body that would normally interact with a race car in real life, the hands, feet and torso. The vesaro real world test rig is the 2010 Nissan GTR, a machine that provides refined and detailed communication between the driver and road in terms of tactile feedback through the pedals, steering and seat; we simulute these feelings using an advanced Tactile Feedback system which recreates this road detail on our rig.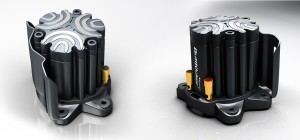 Motion - The GTR's sports suspension, set to full race mode, provides us with real life motion data which can then be used to fine tune the D-Box motion physics actuators for a greater level of realism to the real world counterpart. In addition the Nissan GTR real world car also comes equipped with an advanced data display which includes a G-Force meter for acceleration, braking and steering, providing us with real world information to compare and tune the motion settings of the D-Box motion physics system.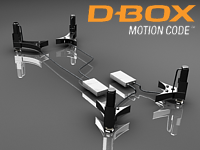 Realism - The motion element of our system moves the entire rig in the same way that the real world counterpart would move, when driving a car as the suspension rides over bumps or hits the apex on a race track the entire car body and its interior will move in relation to the movement of the suspension, the seat, steering and pedals all moving at the same time, distance and speed, and so in order to simulate a real life driving experience the seat, pedals and steering on the sim rig must all move in the same way, this real life realism is only achievable by adding motion to the entire rig. Moving the seat may trick the mind to a certain degree but it also creates a movement between your body and the steering wheel and pedals which is far from true to life. As simulation technology and software advances and becomes more refined we believe that a system which is following the correct physical rules of a real world situation will evolve in a far more realistic and natural way and further enable a closer connection between sim and real life.