Vesaro Partner - D-BOX
Vesaro Systems have been using the D-BOX Haptic System since the inception of our complete full motion simulator back in 2012. We have always insisted that D-BOX Technologies have provided the most true-to life replication of vehicle movement and race-track road textures on the market. Combining D-BOX haptic systems with the Vesaro chassis and our suite of Professional racing controls has proven to be the best solution for Racing Drivers time, after time.
The D-BOX Experience
The Leaders in Haptic Feedback
D-BOX redefines and creates realistic, immersive and haptic entertainment experiences by providing feedback to the whole body. Haptic essentially allows to feel sensations that would be felt if the body was interacting directly with physical objects. D-BOX has collaborated with some of the best companies in the world to deliver new ways to enhance great stories. Whether it's movies, video games, virtual reality applications, themed entertainment or professional simulation, D-BOX creates a feeling of presence that makes life resonate like never before. They are what bring haptic feedback to our simulation experience and enable it to reach a new level.
Vesaro and D-BOX
D-BOX has always been a key part of our solutions. It stands as the ultimate step in completing the perfect Vesaro racing setup. Thanks to its plug and play approach, it is easy to use and easy to adjust perfectly to your liking. Thanks to an exclusive and custom made motion code, they are able to deliver an unmatched haptic feedback containing much more depth than any other system on the market currently.. Vesaro is looking to provide the best for our customers and DBOX is it. We have been working with D-BOX for 8 years and could not be happier with the quality and overall performance of their actuators.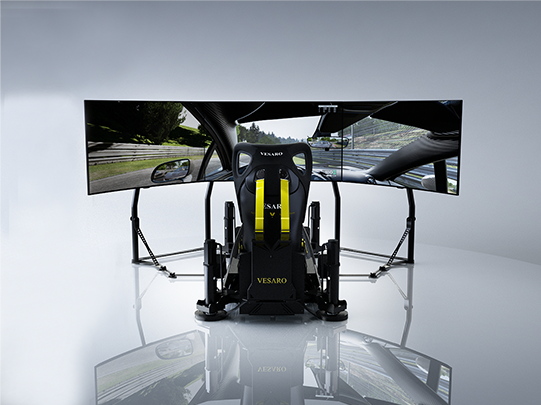 The best haptic systems available bar-none.
For several months, FIA engineers and numerous technical experts of the Federation reviewed D-BOX haptic systems and confirmed it to be the best haptic solution available today. D-BOX motion codes are programed in partnership with game studios ensure that realism and responsiveness are maximised. Because they are custom built by a team of in-house professionals, no small details are left behind. D-BOX's haptic feedback goes beyond crude movement and taps into vibrations and textures such as traction loss and cracks of the racetrack surface. These subtle cues, critical for a driver performing on a simulation rig, are what make D-BOX the only FIA licensed option available on the market today.